<![CDATA[
Investigation fades while DeLay reemerges
When Alice Fisher was appointed by President Bush to serve as Chief of the Public Integrity section of the U.S. Justice Department, vigorous investigations were underway that would eventually end the careers of Congressmen Duke Cunningham and Bob Ney. Both are currently serving time in federal prisons. At the same time, the Jack Abramoff scandal was unraveling with new sordid revelations emerging daily. Eventually, Abramoff and two former DeLay staffers would plead guilty to felony charges and go to prison. Serious questions swirled around Tom DeLay himself and his official actions that appeared to benefit contributors and personal friends. However, since Fisher took over the Public Integrity section at DOJ, things have gone silent, particularly on the many questionable activities of Tom DeLay.
Alice Fisher – "Imbedded Partisan"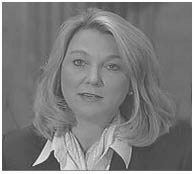 Alice Fisher is the ideal Republican "imbedded partisan" for the Department of Justice. She is well educated and has an impressive resume. At the same time, she has a long history of overt partisanship and loyalty to the Republican Party, but according to Senator Patrick Leahy, "Ms. Fisher is nominated for one of the most visible prosecutorial positions in the country without ever having prosecuted a case." (Source: Senator Patrick Leahy, May 12, 2005) Fisher's Republican credentials include:
Deputy Special Counsel to the Whitewater investigation
National Steering Committee, Woman for Bush/Cheney 2004
Virginia Lawyers for Bush/Cheney, Co-director 2004
Member of the Federalist Society and speaker at Federalist Society Conference
Contributed to both the 2000 and 2004 Bush/Cheney Campaigns
Was a partner in, Latham & Watkins, a GOP friendly law firm that was paid $100,000 to submit an amicus brief to the US Supreme Court in support of Tom DeLay's mid-decade redistricting plan
Co-Counsel for the health care firm founded by former Republican Senate Leader Bill Frist's family
(Source: Senator Patrick Leahy, May 12, 2005; Federal Elections Commission, Amicus Brief to the Supreme Court by Henry Bonilla; Legal Times, January 6, 2003, Fisher Biography submitted to Senate Judiciary Committee)
Did DeLay Get "Wink and Nod" from Bush's DOJ?
Tom DeLay seems convinced that he's off the hook. Conservative syndicated columnist George Will wrote that DeLay's lawyers were telling the Sugar Land Republican "not to trumpet the fact that the Justice Department told them he is not a target". (Source: The Washington Post, January 26, 2006) Will later reiterated the point by saying in an interview that DOJ advised DeLay and his supporters to "… be quiet, not stir the water," (Source: Austin American-Statesman, January 28, 2006). More recently, in a television interview on NBC's Today Show, DeLay boasted "I have never been found guilty of any ethics charges…I haven't done anything wrong." (Watch the interview)(Source: The Today Show, March 20, 2007)
Jack Abramoff's plea agreement led to the indictments of DeLay's former aides, Michael Scanlon and Tony Rudy. Rudy's lawyers and the Justice Department's Public Integrity Section then reached a plea agreement in which, "Rudy implicated [former DeLay Chief of Staff Ed] Buckham as being intimately involved in a payoff scheme." (Source: Roll Call, June 26, 2006) Reasonable observers would expect that Buckham would be quickly indicted and/or reach a plea agreement as well. However, in the nine months since Tony Rudy's plea agreement, no further action has been announced involving Buckham or DeLay.
DeLay's Ties to Russian Funds, Jack Abramoff, and Marianas Sweatshops

Tom DeLay sits at the center of a web of corruption involving his three former high ranking employees and Jack Abramoff. Tom DeLay himself best describes his relationship with these individuals:

Tony Rudy (pled guilty to conspiracy) – "Tony was truly like a son to me" (Source: No Retreat, No Surrender, 2007)

Ed Buckham (under federal investigation for corruption) – "Ed was like a brother to me" (Source: No Retreat, No Surrender, 2007)

Jack Abramoff (conspiracy, mail fraud, and tax evasion) – "one of my closest and dearest friends." (Source: The Dallas Morning News, December 22, 2006)

Tom DeLay and Abramoff trade favors

The list of the things Abramoff gave to DeLay and that DeLay did for Abramoff is long and complicated. It is well known though, that:

Hidden Russian Money

What Jack did for Tom: Jack Abramoff and DeLay's then Chief of Staff Ed Buckham formed a group, the U.S. Family Network, to help funnel money to DeLay and other conservative causes. The Washington Post has reported, "that Russians contributed $1 million to the group in 1998 specifically to influence DeLay's vote on legislation the International Monetary Fund needed to finance a bailout of the collapsing Russian economy." (Source: Washington Post, December 31, 2005) DeLay and Buckham also went on a $57,000 trip to Moscow that was paid for by a group associated with "Russian energy executives." (Source: The National Journal, March 11, 2006)

Further, the U.S. Family Network began paying Buckham a $12,000 monthly retainer in late 1997. Beginning in 1998 Buckham began paying DeLay's wife Christine DeLay,"$115,000 in consulting fees over a three-year period," to "determine the favorite charity of every member of Congress." (Source: The National Journal, April 8, 2006; The National Journal, March 11, 2006; The Washington Post, June 7, 2006; The Weekly Standard, April 17, 2006)

What Tom Did for Jack: In 1998, the same year as the million dollar Russian transfer, then House Majority Whip DeLay cast a "vote in favor of replenishing IMF funding to help Russia's struggling economy." (Source: The National Journal, March 11, 2006)

Abramoff Financial Favors

What Jack did for Tom: Abramoff and his wife contributed over $40,000 to DeLay and his PACs. In May 2000, DeLay used Abramoff's Skybox free of charge for an DeLay's ARMPAC fundraiser. Tom DeLay also went on an all expense paid trip to Scotland that included golf at the famous St. Andrews and was attended by Abramoff and paid for with Abramoff's credit card. (Source: The National Journal, October 9, 2004; The Associated Press State, June 22, 2005; The Associated Press, March 2, 2006)

What Tom Did for Jack: DeLay sent a letter to then Attorney General John Ashcroft asking for his help in investigating the Alabama-Coushatta gambling operation, "eight days after Abramoff said in an e-mail to a lobbying associate, 'We have to shutter Alabama-Coushatta and fast.'" The Alabama-Coushatta's casino was a competitor of Abramoff's clients. Texas Reps Pete Sessions, John Culberson and Kevin Brady also signed the letter. (Source: The Houston Chronicle, January 11, 2006)

Mariana Sweat Shop Payoff

What Jack did for Tom: Abramoff arranged for $500,000 to be "donated to the U.S. Family Network by the owners of textile companies in the Mariana Islands in the Pacific." The U.S. Family Network was run by former DeLay Chief of Staff Ed Buckham. (Source: Washington Post, December 31, 2005)

What Tom Did for Jack: DeLay publicly committed to block any legislation that raised the minimum wage in the Mariana Islands despite confirmed accounts of sweatshops. (Source: Washington Post, December 31, 2005) In fact, it was reported that, "Blocking efforts to raise the minimum wage and tighten immigration restrictions in the islands was a priority of former House Majority Leader Tom DeLay." (Source: Knight Ridder, January 14, 2007)

Indian Casino Jackpot

What Jack did for Tom: DeLay received $31,000 from Indian tribes, most of which were clients of Abramoff. DeLay and his wife also visited the Choctaw's casino, spa and golf course at a cost of almost $7,000 to the Choctaws. (Source: Washington Post, December 31, 2005; Political Moneyline)

What Tom Did for Jack: "DeLay, meanwhile, saluted Choctaw [an Abramoff client] chief Philip Martin in the Congressional Record on Jan. 3, 2001, citing 'all he has done to further the cause of freedom.' DeLay also attached to his remarks an editorial that hailed the tribe's gambling income and its 'hiring [of] quality lobbyists.'" (Source: Washington Post, December 31, 2005)
Conclusion
As one of the most powerful political leaders in America, Tom DeLay was intimately involved in highly questionable activities involving convicted felons. However, DeLay's recent blustering combined with inaction by the DOJ raises the question, does Bush's Department of Justice want to limit aggressive investigation and prosecutions to only DeLay's staffers while stopping short of DeLay himself?