Why is Harris County Commissioner Steve Radack So Angry?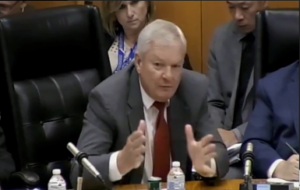 Steve Radack's ego apparently can't handle serving in the minority and having to work collaboratively with a new Democratic majority that is taking on real problems that have been festering in Harris County for years. Before now:
Radack had only served as part of a Republican majority.
Former Republican County Judge Ed Emmett ran a sleepy court that pushed off big problems like flood control, criminal justice reform and toxic chemical exposure.  In return, Radack didn't rock the boat.
As a senior member of the Court, he still got perks without earning them – like being appointed to the County Purchasing Board.
Finally, as a harsh partisan Republican operating in a Republican majority that avoids hard issues, Radack seldom had to find a reasonable middle ground on anything.
Things have changed.
Radack finally being held accountable
Steve Radack's nature is to make snide comments and attack those who disagree with him – even constituents and others in Harris County like those who fell victim to Hurricane Harvey and other floods.    
 
In past years, Radack's mean-spirited and disrespectful remarks usually passed without comment.  Now, media and political opponents are noticing and drawing attention to his behavior.  The best recent example is when Radack made the snide and cynical claim that "people enjoy floods" because they can get new cars and remodeled homes.  The media and then the Lone Star Project picked up the complaint and shared with Harris County voters.
Democratic County Judge and Commissioners are hard chargers unafraid to take on difficult problems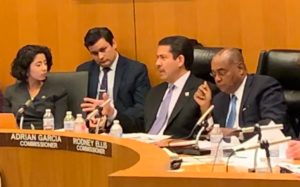 Now, the majority on the Harris County Commissioners Court is made up of three hard charging Democrats who are neither complacent nor satisfied with business as usual. 
Commissioner Rodney Ellis is a natural leader who brings experience and accomplishments far beyond Radack.  Similarly, new Precinct 2 Commissioner Adrian Garcia has served on the Houston police force, the Houston City Council and two terms as Harris County Sheriff. He deals with real problems in real time.  And, new County Judge Lina Hidalgo addresses hard problems with courage and energy that Ed Emmett never found.  She has already demonstrated impressive leadership of the Court, while patiently putting up with Radack's antics.
Already this year, the Democratic leaders have dealt skillfully with dangerous chemical fires, difficult bail reform matters and flood control issues ignored by the previously Republican-led Commissioners Court for decades.
Steve Radack has a choice to make – either focus on the needs of his precinct and work collaboratively with current Court members to address his constituents' needs or continue to throw fits and throw up roadblocks. 
 
So far, Steve Radack has chosen the latter – angry and unproductive – option.