With their recent vote in the Harris County Commissioners Court, the Democratic majority may have "achieved a national model for ending poverty jailing"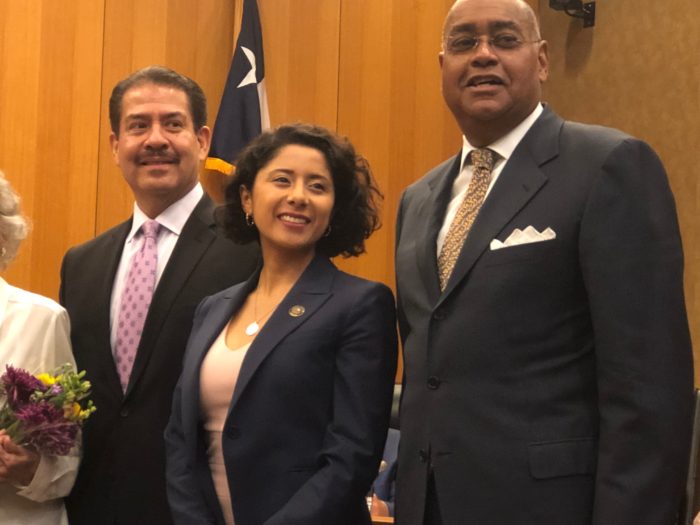 During the most recent Democratic Presidential Debate, the topic of criminal justice reform elicited a thoughtful and nuanced discussion. Meanwhile in Texas, the Harris County Commissioners Court (led by Democrats Judge Lina Hidalgo, Precinct 1 Commissioner Rodney Ellis, and Precinct 2 Commissioner Adrian Garcia) passed a landmark agreement on bail practices that can be used as a guide for similar reforms in municipalities across the nation.
From the Houston Chronicle Editorial Board:
Lavish? Not hardly, especially when you consider the draconian system that prompted the civil rights lawsuit in the first place. It was a system that jailed low-level misdemeanor defendants before they even got to trial, much less were convicted, simply because they were poor while those with means walked free. It was a system based on a myth: that money bail works better than, say, an ankle monitor or a curfew to keep defendants out of trouble and showing up to court while awaiting trial.
It was a system based on the false premise that bail is for punishing people before they even face trial. In this country, we don't punish people considered innocent until proven guilty. The only justifications for locking them up before trial is that they are a flight risk or a present danger to the community.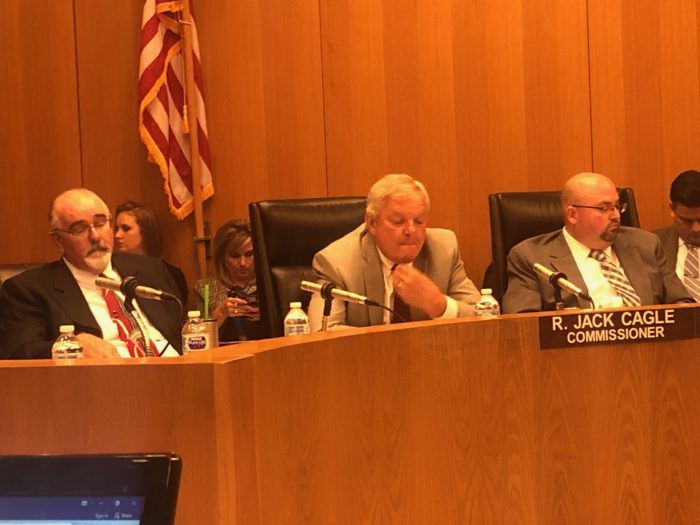 The public overwhelmingly supported the agreement. Once testimony was complete, reform was approved on 3-2 party line vote, with Republicans Steve Radack and Jack Cagle voting "no." Radack and Cagle spent the hearing attacking & trying to block the landmark agreement. What did they do?
Let's start with Precinct 4 Commissioner Jack Cagle
From the Houston Chronicle:
Cagle, a former judge, later put forward a motion for last-minute amendments that would have drastically curtailed the content of the consent decree that 16 judges, the sheriff, county officials and plaintiffs' lawyers had worked on for months. 
Former Judge Cagle knows how the process for settling a lawsuit works. A "last-minute amendment" would force a total renegotiation between the two parties of the suit, with no chance of meeting a looming deadline set by a Federal Judge.
If Commissioner Cagle or his staff had expressed willingness to participate in the negotiations from the beginning, perhaps they could've had more influence on the final outcome of the settlement. However, Cagle rarely bothered to participate in the process.
Precinct 3 Commissioner Steve Radack again lost his composure
A comment from one local chamber of commerce member summed up the approach taken by Radack and Cagle in a comment to the Houston Chronicle: 
"The amount of disrespect that is being spoken from commissioner to judge (and) commissioner to commissioner, depending on whatever topic they have, is unbelievable," (Cy-Fair Chamber of Commerce President Leslie) Martone said. "It's appalling to me that that's happening."
"This landmark agreement is a historic step toward building a fair, effective criminal justice system that can act as a model for the nation," said Harris County Judge Lina Hidalgo. "This settlement is smart. It ensures that we are spending our resources on real public safety, rather than filling our jail with people who are only there because they're poor. Today marks a proud moment on our path toward justice."
And Precinct 1 Commissioner Rodney Ellis fought for these reforms for decades
Over his long and storied career, Precinct 1 Commissioner Rodney Ellis has been a leader on Criminal Justice Reform. He compared the agreement to the landmark decision by the Supreme Court in Brown v. Board of Education which ended segregation. As the Texas Observer reports, "It took decades, maybe a century, to put this system in place that has been ruled unconstitutional," Ellis said before voting for the agreement. "You cannot dismantle a system like this overnight."