Texans for Lawsuit Reform (TLR) is the highest profile political action committee working to undermine the legal rights of individuals who are cheated or injured due to malice or negligence by a corporation or other powerful interest. TLR backs notoriously divisive Republicans like John Cornyn, Greg Abbott, Dan Patrick and Ted Cruz. Now, the list includes State House District 100 candidate James Armstrong.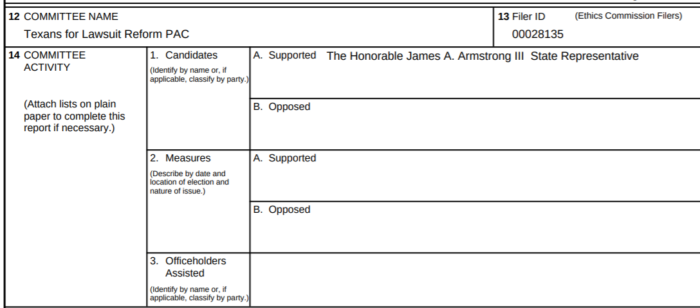 House District 100 Special Election Overview
Dallas-based State House District 100 is overwhelmingly Democratic with large African American, Latino and Asian American populations. No Republican has carried it in a competitive race since the current district was drawn in 2011. It is the district Eric Johnson held before being elected Dallas Mayor last year.
Mayor Johnson's successor is being determined by a special election now underway that will end next Tuesday, January 28th . Candidate Lorraine Birabil's long-time public service and community activism have earned her the support of both neighborhood leaders and key elected officials – like Commissioner John Wiley Price, Congressman Marc Veasey, Judge Clay Jenkins and Beto O'Rourke. Lorraine easily led the field in the first round of the special election. She is the prohibitive favorite in the run-off and the strongest candidate to file in the 2020 Democratic Primary.