Tony Tinderholt Opens Campaign with Overtly Dishonest Ad
The real Tony Tinderholt is helping billionaire ideologues attack public schools and hijack education funds to pay for private school vouchers.
Tony Tinderholt (Republican, HD94 – Arlington) didn't even wait for Labor Day to start spending special interest money distorting his record and lying to District 94 voters. In an early video ad likely financed by Tinderholt's billionaire West Texas benefactors, Tinderholt uses soft images and hard lies to hide a record that hurts Texas school kids and their families.
 
The Lone Star Project has corrected Tinderholt's ad by laying down facts over his fake claims.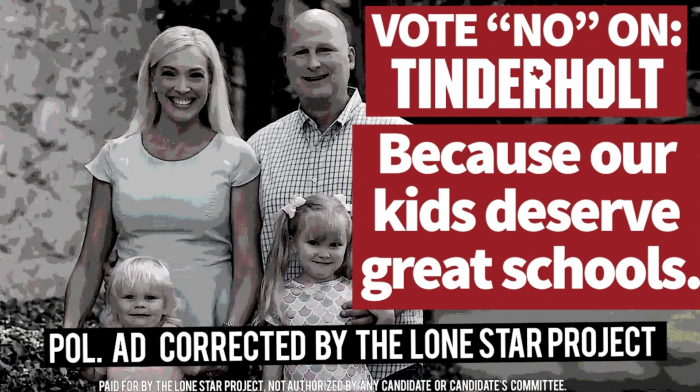 Tinderholt launched his political career attacking public schools
It's fair to say that Tony Tinderholt entered politics to go after Texas public schools. During his first campaign in 2014, Tinderholt primaried a well-respected public school advocate and former Arlington School Board member, Republican State Rep. Dianne Patrick. Tinderholt's campaign was almost entirely bankrolled by private school voucher and anti-public education groups intent on removing pro-public education officials like Dianne Patrick from the Texas Legislature.

In Austin, Tinderholt has delivered for his deep pocket, anti-public school donors
Once sworn into office, Tinderholt has been one of the most anti-public education members of the Legislature. Time and again, Tinderholt supported private school vouchers intended to divert millions of dollars from local public schools to unaccountable private schools favored by his ideologically extreme donors. One study found that a Texas GOP voucher bill pushed by Tinderholt's donors would have cut up to $17 million from Arlington public schools alone.
 
Tinderholt has gone after the youngest school kids and their teachers too.  He opposed the expansion of high-quality pre-k for Texas students and even supported one of the most anti-teacher proposals in the legislature that even one Republican called the "teacher discrimination" bill.