Information on the 2020 Tarrant Co. Project
Lone Star Project is collaborating with Texas Values in Action to conduct mail, phone, text messaging, signs, and digital communication into the five Tarrant County challenge districts (HDs 92, 93, 94, 96, 97).
Footprint Map: View Here
Direct Mail
Five mail pieces will go to "Hard Base" and "Expanded Base" universes emphasizing support for Democratic candidates in every race with an emphasis in State House candidates.
9/29: Mail Piece 
10/1: Mail Piece 
10/6: Mail Piece 
10/14: Mail Piece
Closing Piece: Mail Piece
Radio
Phones/Texting
There will be paid live and robo GOTV calls and text messaging into both Hard and Expanded base universes.
Text Videos
Polls and Signage
Poll greeters will be stationed at key early vote and election day polling sites to encourage down-ballot voting and support for State House Democrats.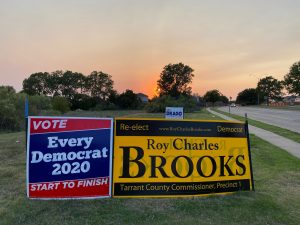 Digital communication
Digital ads will be sent to a persuasion universe from a variety of platforms laying out the failure of Republican State House candidates.
GOTV Videos
HD 92 Jeff Cason
HD 93 Matt Krause
HD 94 Tony Tinderholt
HD 96 David Cook
HD 97 Craig Goldman