<![CDATA[
In a document prepared for a January 2015 hearing, the Texas State Securities Board (SSB) laid out evidence that implicitly implicates Texas Attorney General Ken Paxton in its enforcement action against his former business associate, Frederick "Fritz" Mowery. The SSB details how Mowery swindled clients and altered documents to mislead state investigators.

The SSB's Notice of Hearing describes how investors were never informed, as state law requires, that the "solicitor" who recommended Mowery's investment services to his clients received a 30 percent commission on the referral. Moreover, the SSB document states that disclosure forms were altered in order to mislead state investigators. Paxton's admission last year to his involvement in the scheme makes it clear that he is the "solicitor" noted in the SSB document.

The key excerpt from the SSB document can be seen here.
Will GOP District Attorneys Act on Paxton Violations?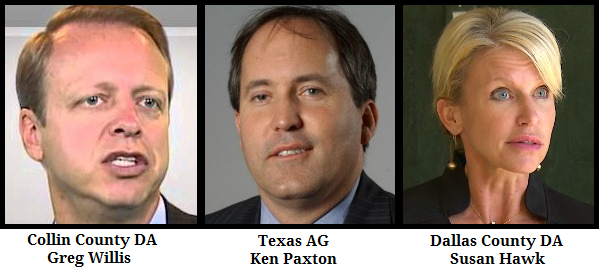 The current Collin and Dallas County District Attorneys are Republicans. Collin County DA Greg Willis has a direct conflict of interest in the case. He is both a political ally and a personal friend of Paxton. Willis does, however, have the authority to name an outside or special prosecutor to pursue the Paxton case. Dallas County DA Susan Hawk does not appear to have an obvious conflict of interest and should pursue an investigation.

District attorneys in Texas have the authority to investigate possible criminal activity within their jurisdictions. It is likely that Ken Paxton's violation of the state statute requiring him to register with the SSB and the failure to disclose the receipt of fees in return for referring clients to Fritz Mowery occurred in Collin County and/or Dallas County. Paxton lives in Collin County. The clients he and Mowery swindled live in Dallas County. Paxton and Mowery shared office space in both Collin and Dallas counties. Paxton surely knew his actions were in violation of the law given that he voted for the law prohibiting those actions.
Will GOP Legislature's "Corruption Protection Act" Shield Paxton?

Earlier this week, Republican State Senator Joan Huffman (SD17 – Houston) proposed and the Senate Committee on State Affairs approved, SB10, a bill that appears tailored to protect Ken Paxton. The Legislation would place the authority to initiate an investigation and prosecution of criminal activity by a state official with – you may have guessed – the Texas Attorney General.

So, if the Huffman/GOP bill on corruption by State officials is approved by the full Legislature and signed by Governor Abbott, Ken Paxton could stop an investigation of admitted criminal activity by Ken Paxton.