Recent claims by Republicans – too often repeated by the media without scrutiny – that Joe Biden is set to underperform Hispanic voters and Donald Trump will capture a disproportionate share of Hispanic vote are very likely wrong.
Consider the data compiled below by Russ Tidwell, former Texas State House Representative and longtime political director to trial lawyer organizations. Pre-election polls in Texas often show support for Democrats well below the actual support given to Democrats in the election itself.
The current Real Clear Politics (RCP) average in Texas is Biden 45.2, Trump 48.4. Trump +3.2
Here are RCP averages in recent past years:
In 2016, Clinton performed 4.9% better in the actual election than her RCP average (43.2 vs 38.3). Final RCP average was closed by 2.7%

In 2018, Beto did 3.8% better in final returns than his RCP average (48.3 vs 44.5). He closed the final RCP average by 4.2%
2012: Incumbent Obama finished 2.4% better on election day in Texas than his final RCP poll average (41.4 vs 39.0)
2008: Candidate Obama finished 3.2% better on election day in TX than his final RCP poll average here. (43.7 vs 40.5)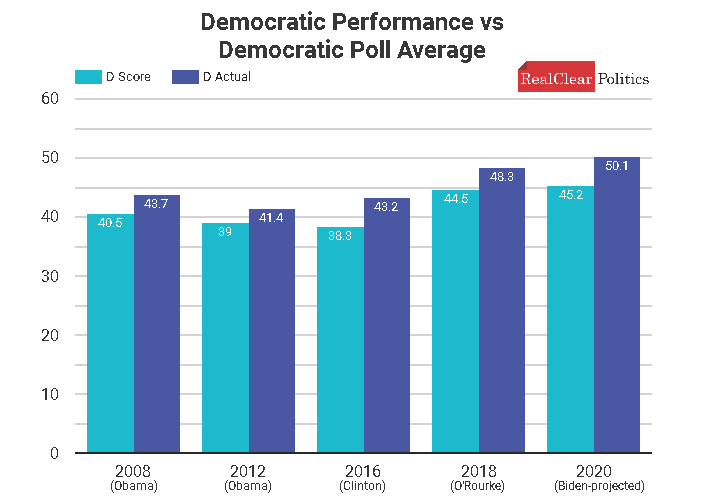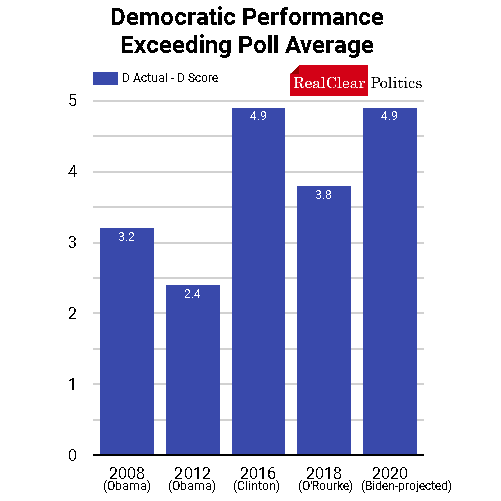 The chart below shows a broad pattern of surveys under-reporting support for Democratic candidates in states with large Hispanic populations like California, Texas, Arizona, and New Mexico.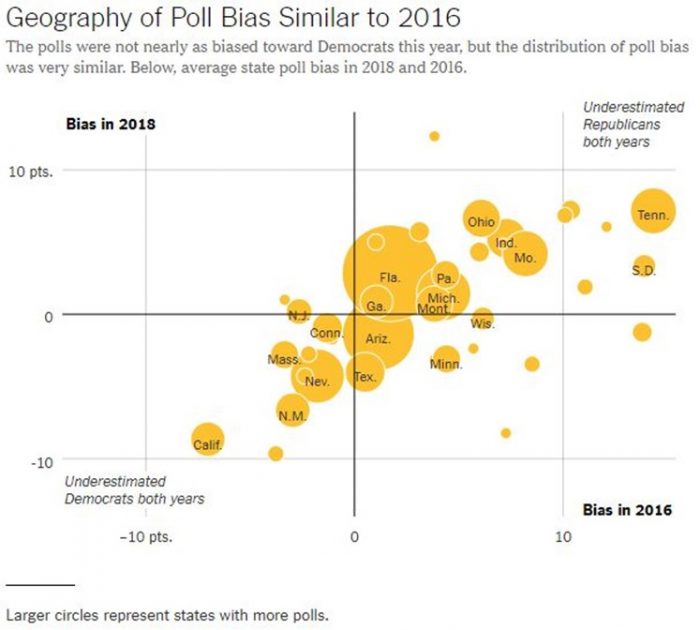 Source: Upshot, New York Times
There is no reason to think that Trump will be rewarded by more Hispanic support than past Republicans and may well do worse.
No President in recent memory – maybe ever – has been more hostile to Hispanics than Donald Trump. Trump launches vicious verbal attacks against Hispanics to gin up his racist Anglo base, and his administration engages in physical and emotional abuse of Hispanic parents and children on our border.
Trump has failed every American in his botched handling of the coronavirus pandemic, but it has been disproportionately worse for Hispanics. They have suffered more economically and are getting sick and dying at a disproportionate rate.