Republican Congressional candidate Wesley Hunt's misplaced priorities on self-promoting public appearances expose his irresponsibility and disrespect for the public he says he wants to serve. Hunt is more focused on bragging about cringeworthy Hollywood-slick campaign ads (that feature Russian warships), than fulfilling his duties as a board member of a mental health organization.
Hunt claims to be "active in many organizations in the Houston area" and touts his position on the board of trustees for "the Harris County Center for Mental Health." However, Hunt has missed over seventy percent of the scheduled board meetings since he was appointed.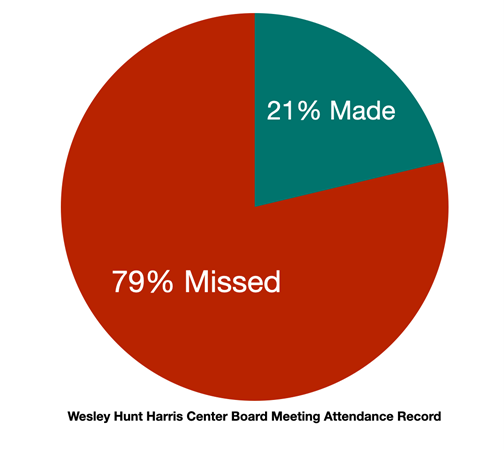 Observers in the race between Hunt and popular incumbent Rep. Lizzie Fletcher have said this is a pattern of behavior for Hunt—noting his absence at the Houston Chronicle Editorial Board meeting and various other joint-appearance campaign events.
The Harris Center's mission is to positively impact the lives of people living with disabilities. It cannot effectively carry out its mission with an absent and unengaged board. Hunt's absences also place an undue burden on the staff who must focus on long-term planning without the input and oversight Hunt was charged to provide.
Hunt's unreliability exposes his lack of commitment to health care and his inability to work within a team environment. His lack of respect for the job he sought is a good show that he will perform badly as a public servant.
Texans need leaders who show up and do the work. Wesley Hunt's dereliction of duty in assisting those with disabilities gives voters every reason to question his fitness for office.
Wesley Hunt: Absent Board Member
ALL-TIME ATTENDANCE RECORD: 27%
Missed 73% of meetings since appointment
10 out of 37 meetings attended
2019 ATTENDANCE RECORD: 33%
7 out of 21 meetings attended
5 out of 12 board meetings attended
2 out of 9 resource meetings attended
Missed 66% of meetings
2020 ATTENDANCE RECORD: 3 out of 14 meetings attended
2 out of 8 board meetings attended
1 out of 7 resource meetings attended
Missed 78% of meetings